Sheriff Mike Neal and Chief John Argo would like to congratulate Corrections Captain Melba Huffman upon receiving the Tennessee Corrections Institute Jail Administrator of the year award. Sheriff Mike Neal nominated Captain Huffman for all of the hard work that she puts in every day.
Captain Huffman oversees the Corrections Division of the Sheriff's Office which houses, and cares for our inmate population. She not only keeps up with the day to day operation of the jail, she also interacts with State and Federal officials in making sure that inmates are where they are supposed to be for court appearances, medical appointments, and keeping up with the time that each of the inmates has accumulated.
Captain Huffman takes her job very seriously and spends numerous hours working to ensure that everything is running smoothly within the jail. She is a very valuable asset to our agency and has made transitioning from the old jail to the new justice center seamlessly.
Sheriff Mike Neal as well as the men and women of the Rhea County Sheriff's Department are all so very proud of her hard work and determination.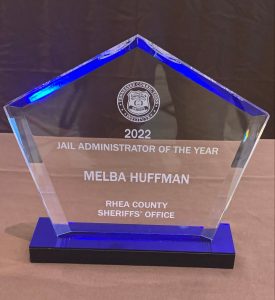 nd dedicatio.