Rhea County Sheriff Mike Neal formed the County's Homeland Security Team following the 9/11 tragedy. Sheriff Neal, foreseeing the need to have trained volunteers ready to step in to assist with emergencies that might deplete the Sheriffs Department's resources, formed this group from volunteers interested in helping their community.
Over the past 12 years, these teams have assisted in the State Small Pox Inoculation Drill, Watts Bar Response Drill, Evacuation Drills at Spring City Elementary School and Rhea Central Elementary School, and have coordinated various Neighborhood Watch programs around the county.
In addition, the team has assisted in Search and Rescue, Crime Scene Security, Security for a variety of public events, and has conducted dozens of public services including CPR and First Aid Classes around the county. The team has also assisted in with various natural disasters within the county including providing medical assistance.
The Homeland Security Team has Annual training in handgun qualification, National Weather Service (Weather Spotters), OC Pepper Spray, Extendable Baton and Emergency Vehicle Operations.
Other classes include Incident Response to Terrorist Bombings, Counter Terrorism Surveillance, Basic Radio Communications, NIMS (National Incident Management System), Hazardous Materials Awareness, Methamphetamine Awareness, Drug Interdiction, IED Recognition (Improvised Explosive Device), and the Highway Watch Program. Medical Responders within the team have taken classes in SIDS (Sudden Infant Death Syndrome), PEPS (Pediatric Education for Pre-Hospital Professionals), TCCC (Tactical Combat Causality Care), Medical First Responders, Advance First Aid, CPR, and AED, and several are National Registry/State Certified First Responders and Emergency Responders.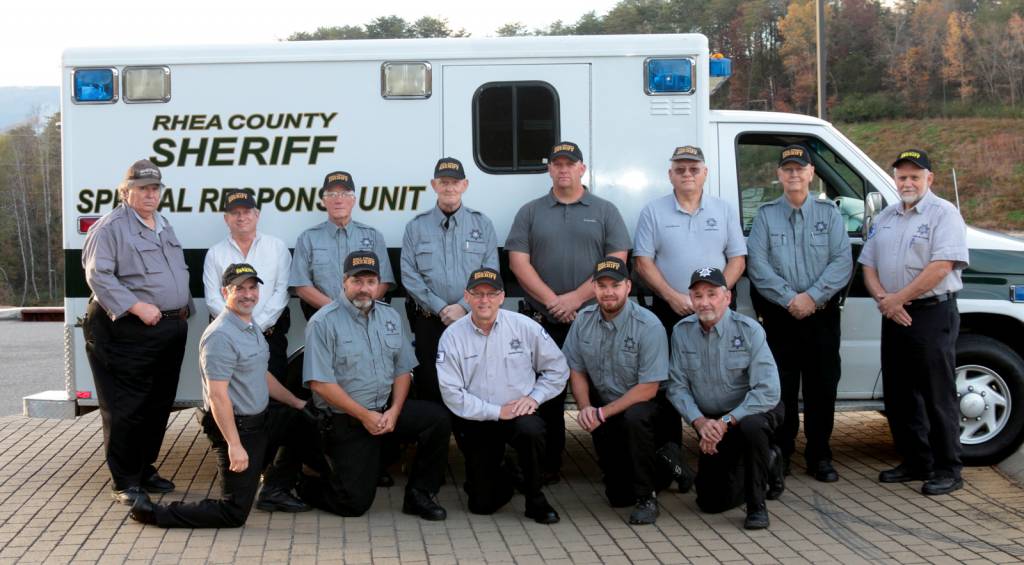 The Homeland Security Team consists of 40 members qualified in the following areas:
25 First Aid Certified
30 CPR/AED Certified
9 Emergency Medical Responders
6 Medical First Responders
4 CPR/AED/First Aid Instructors
18 Extendable Baton Certified
28 OC Pepper Spray Certified
35 Handgun Certified
9 Ham Radio Operators
7 EVOC Certified
14 Members in North Rhea County
26 Members in South Rhea County