Operation SCAN (senior citizen awareness network) began in 2002 under the direction of Sheriff Mike Neal. Sheriff Neal recognized that there was a great need in the Rhea County area for Senior Citizens to be helped/ screened for local services including: health, living condition, food resources, personal items including hygiene, clothing, condition of home or apartment and accessibility including ramps and medical equipment.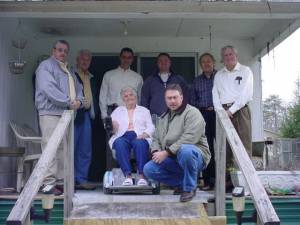 The program currently consists of 33 volunteers who regularly visit and screen 140 clients around Rhea County. Two groups of volunteers travel 5 days per week screening the clients for services and connecting the seniors with public service organizations who might provide help for them. Several ramps and medical equipment have been built and secured for the seniors by program members and volunteers.
When a home or apartment is deemed not safe and livable, volunteers have helped secure new housing for them as well.
Operation SCAN volunteers are sometimes the only people that the seniors see on a regular basis. They form long lasting friendships with our seniors and provide a lifeline to the outside world for many of them who are shut-in. All of the seniors live alone and some of them have no family left. We appreciate the help each volunteer provides.
Each Year, Sheriff Mike Neal and the Rhea County Sheriff's Department and Operation SCAN provide Thanksgiving Dinner for the seniors on the program. Christmas fruit baskets are also provided for each member. Volunteers also screen each home yearly for smoke detectors and provide a new one when necessary and change batteries on others.
Currently, there is a need for food and medical equipment and any person or group who wishes to donate food items or medical equipment, please contact Lee Miller with the Rhea County Sheriff's Department at 423-775-7837.