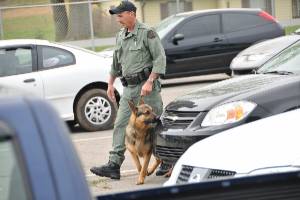 The Rhea County K-9 Division consists of two officers who are certified in the use of K-9's in the field of police work. The dogs along with the officers must undergo intense training and qualification in proper techniques for handling fleeing persons, detecting illicit drugs and search and rescue operations. The Rhea County K-9 Division is certified and trained by the following: Southern Police K-9 Association, American Working Dog Association, National Narcotics Detection Dog Association and the K-9 Team Street Survival School.
The K-9 Team with the Rhea County Sheriff's Department may be called into service anytime an officer with the Rhea County Sheriff's Department or any other area department requests their assistance.
If an officer suspects illicit drugs in a vehicle, building or container, that officer may request assistance of the K-9 Team to help detect the presence of the drug by searching the suspected area.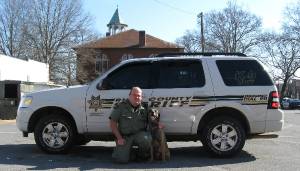 The K-9 Team also tracks wanted individuals fleeing from the scene of a crime or suspected crime. When an officer needs additional help to track an individual suspected of a crime at a specific location, or if a subject flees from custody of an officer, that officer can contact the K-9 Team who will attempt to locate the individual. Even if the individual fled the scene much earlier, the K-9 Team may be able to locate them based ground disturbance.
The same can be said of missing persons. If a person is suspected to be missing in a specific area, the team may be called to help in the search and/or recovery of the individual. Even hours after the individual is missing, the K-9 Team can potentially detect the track the individual took and follow them to their respective location whether living or deceased.