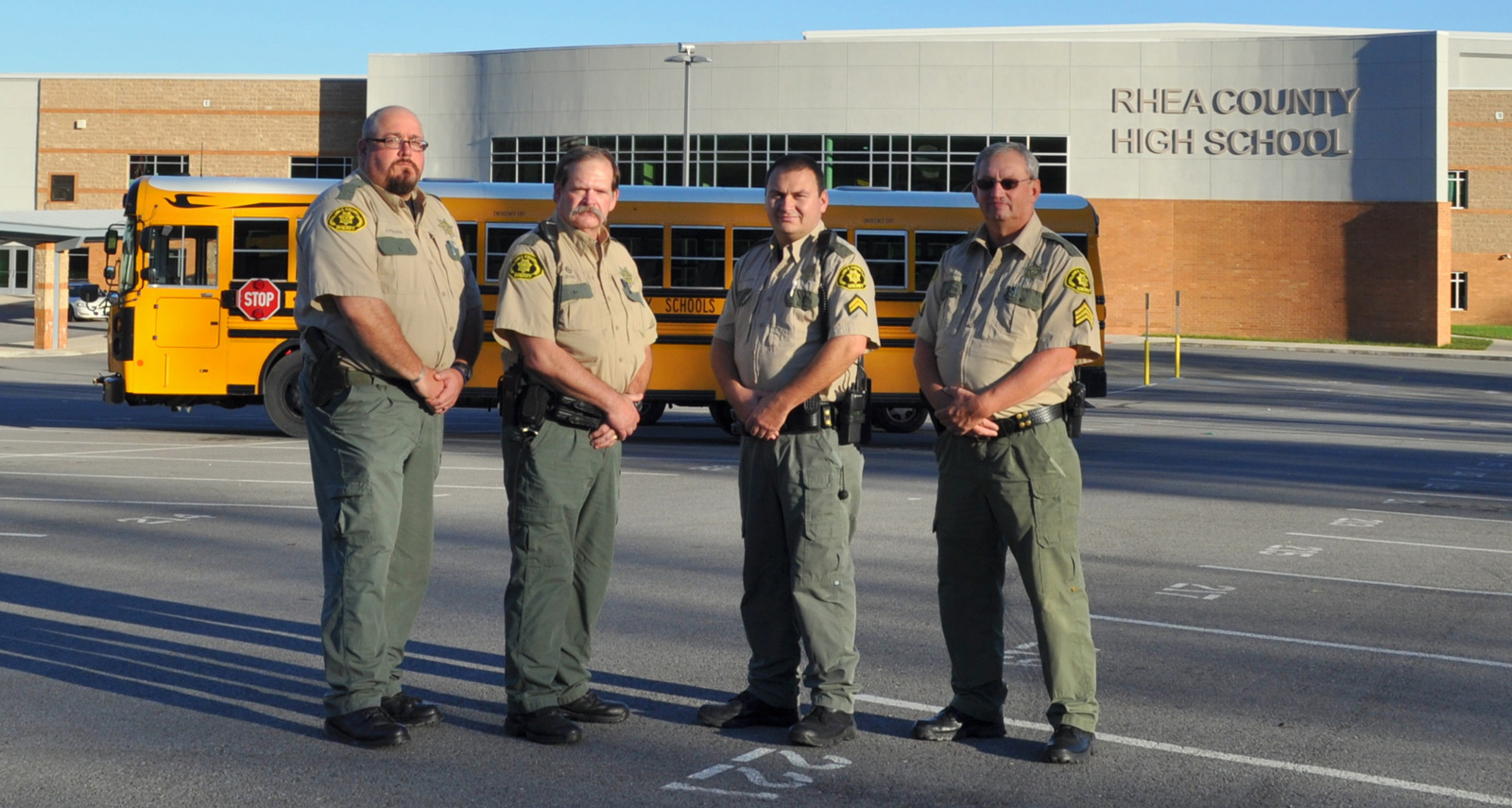 The Rhea County School Resource Officer Program (SRO) has been successfully utilized across the United States. It involves the direct placement of a law enforcement officer within the educational environment. While on school grounds, SRO's are readily available to students, teachers, administration and parents with assistance and information regarding safety, crisis prevention and law enforcement issues. Rhea County Sheriff's Department SRO's are a direct link between the schools and other service organizations that provide preventative and counseling services within the school district. These include family violence programs and counseling, drug rehabilitation, alternative school and summer boot camp program.
Rhea County Sheriff's Department SRO's have developed a strong sense of communication and trust within the school system. The safety level of all involved has dramatically increased due to their presence. The program also affords the opportunity for youth to learn more about law enforcement and engender a strong sense of understanding for keeping the community safe and aware.
Boot Camp
The Rhea County Sheriff's Department in conjunction with the Rhea County School System and Rhea County Juvenile Court, sponsor a summer boot camp program for at-risk youth. In the event that the school system or court determines that a juvenile has the potential of lapsing into truancy or even criminal behavior, they are eligible to be placed in the Rhea County Sheriff's Department Boot Camp program. The program lasts 8 weeks with a one-week break for the Fourth of July holiday. The number of teenagers in the program is usually 18 to 20. Each will have classroom type studies for which they will receive credits. They also have military style basic training that is instructed by a member of the local National Guard. The four school resource officers along with 1 to 3 teachers will also be present assisting the teenagers. Other classes that are part of the program are: attitude adjustment, consequences of drugs and alcohol and job skills training. The program runs from the last Tuesday in May through July.
D.A.R.E.
Drug Abuse Resistance Education has long been a part of the public services offered to students in Rhea County through the Rhea County Sheriff's Department. Each year, sixth graders from all Rhea County Schools are given this course in an effort to deter as many youth from a life of drugs, alcohol and crime as possible. This program is taught throughout the school year followed by graduation from the program. Students who successfully complete the program are provided with certificates of graduation at a ceremony held at the end of every school year. They are also eligible to participate in the annual Tennessee Strawberry Festival Parade held each May in Dayton, Tennessee.
Or more information about D.A.R.E., please visit the official website: www.dare.com