Sheriff's Training Center, September 1, 2016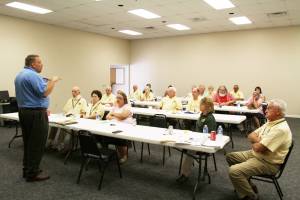 S.C.A.N. (Senior Citizens Awareness Network) celebrated the impact volunteers have made in over 14 years of service during a luncheon for volunteers Thursday.
The luncheon featured S.P.A.N. Co-Director Lee Miller and RCSD Chief Deputy John Argo as speakers who thanked volunteers for the work they do and have done to help seniors.
Guest speakers in attendance were Amy French with the Chattanooga Alzheimer's Association, Darryl Smith of Home Health Care of East TN Hospice, and Penny from Rhea County's Almost Home Pet Foundation.
If you love seniors and would like to volunteer to the S.C.A.N. program, please contact the Rhea County Sheriff's Dept. at 423-775-7837.